Radon is an odorless, colorless gas released from soil, water, and rocks underground. Radon is found in all 50 states and represents a significant public health risk because it is carcinogenic. Unfortunately, radon gas is the leading cause of lung cancer among non-smokers. In Maryland, homeowners have reported high levels of radon in every county and Baltimore City, and The Baltimore Sun once described Central and Western Maryland as the "Radon Belt" of Maryland. However, there is a simple and affordable solution for your home: call Reliable Radon, Inc. for radon testing in Columbia, MD, and, if necessary, install a radon mitigation system.
Radon Inspection in Columbia
Radon testing in Columbia MD is straightforward and will assure you that your home is safe. Radon inspections are beneficial whether you are a homeowner, buyer, renter, or real estate agent. Any style of home can and should be tested for radon — even homes without basements. Also, it is not sufficient to "piggyback" off of the tests of your neighbors because every site is different; low levels of radon at a home nearby does not guarantee that ground beneath your home has low levels of radon too. Get the results for your home quickly and accurately with radon testing in Columbia, MD by Reliable Radon, Inc. Call today to get started.
Radon Remediation Services
If your radon test results show elevated or "higher than recommended" levels of radon, install a radon mitigation system. Radon mitigation systems are effective and inexpensive. We believe that a radon mitigation system is one of the most affordable upgrades you can make to your home. Reliable Radon, Inc. is conveniently located in Ellicott City, and we are the contractor that Howard County residents trusted for high-quality installations. Realtors recommend us too because our company was founded in part by real estate professionals who understand the importance of radon remediation in the home buying and selling process.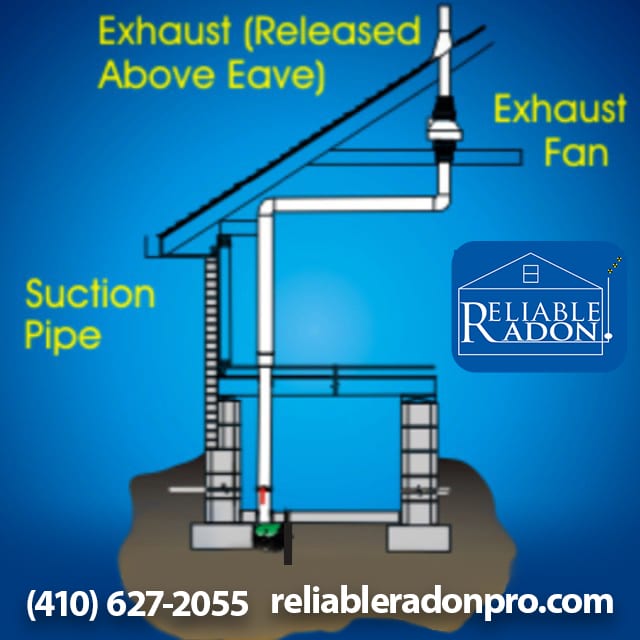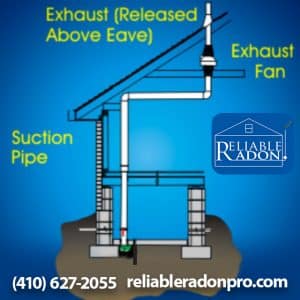 We are proud of our customer service and invite you to read our reviews from real customers on Angie's List and Facebook, then contact us to install your radon mitigation system or schedule your radon test.